Bradley Manning case signals US vulnerability to 'insider' cyberattack
The US government says Bradley Manning carried out a cyberattack from the inside, stealing thousands of secret US intelligence documents. Nearly half of US companies deal with similar cyberattacks each year, data suggest.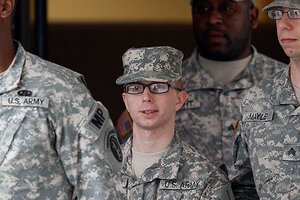 Patrick Semansky/AP
At a time when nation-states and hacker-activists worldwide are increasingly infiltrating US networks to steal sensitive information, the allegations against Pfc. Bradley Manning highlight a cybersecurity threat that might be just as dangerous.
Private Manning on Thursday enters the seventh and perhaps final day of his pretrial hearing to determine whether he should be face a full court-martial on charges of stealing and leaking US intelligence to the WikiLeaks website.
Among its accusations against Bradley, the US government says he walked out of a US military base in Iraq with a compact disc labeled "Lady Gaga" that actually held more than 251,000 secret State Department diplomatic cables.
If true, the case shows the "insider" cyberthreat to companies, governments, and organizations. The attacks can range from disgruntled employees shutting down 1,000 company mobile phones at once to insiders changing computer codes to hide any records of money they have stolen.
The trend lines for insider attacks are not as dramatic as those for outside attacks. Indeed, they have mostly held steady for a decade. But a 2011 survey found that nearly half of the organizations it polled reported an "insider incident" last year, suggesting the threat remains significant – and perhaps overlooked.
---