Mount Rainier evacuation complete as suspect's body found in snow (video)
Mount Rainier evacuation Monday was caused by the shooting death of a park ranger Sunday. The suspected gunman, an Iraq war veteran thought to have survivalist skills, was found dead Monday.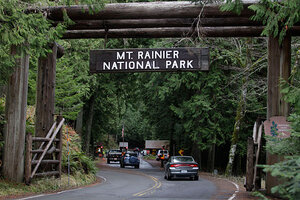 Ted S. Warren/AP
The drama caused by the shooting death of a park ranger in Mount Rainier National Park appeared to end Monday afternoon when officials found what they believed to be the body of the alleged gunman.
The popular 368-square-mile park was closed Sunday morning and a massive manhunt launched when Park Ranger Margaret Anderson was killed by an assailant who fired at her when she tried to pull over his car at a required tire chain checkpoint. When the car failed to stop, Ranger Anderson used her car to block the road. The assailant jumped from his car and opened fire with a shotgun fatally wounding Ms. Anderson before she left her vehicle, police said.
The body found face down in the snow, and partially submerged in the Paradise River, is believed to be that of Benjamin Colton Barnes, a spokesman for the Washington State Patrol said Monday. Police officials had earlier identified the Iraq war veteran as "a strong person of interest" in the killing. "At this point, we're just waiting to confirm it," Ed Troyer, with the Pierce County Sheriff's Office, told CNN.
---