Did $98.5 billion high-speed rail project just hit a wall in California?
An independent review panel says the plan for a high-speed rail corridor linking northern and southern California poses 'an immense financial risk' to the state and should not move forward.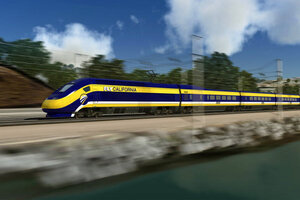 California High Speed Rail Authority/AP
Drawing a battle line over a high-speed rail project in California – and adding a yellow caution light nationally – a trusted and independent review panel has recommended that California not move forward on its proposed $98.5 billion bullet train, saying it poses "an immense financial risk."
The watchdog body, created by state law to guard the public interest (known as the California High-Speed Rail Peer Review Group), released its findings Tuesday and is recommending to the Legislature – which opened its 2012 session Wednesday – that it not approve bond proceeds for the project.
California voters approved a $10 billion bond in 2008 in support of plans to build a high-speed rail corridor to link northern and southern California, with trains reaching 220 m.p.h. The system would link to other rail lines that fanned out across the state.
Will Kempton, the former director of the California Department of Transportation, or Caltrans, and current head of the Orange County Transportation Authority, chaired the independent review panel.
"We cannot overemphasize the fact that moving ahead on the (high-speed rail) without credible sources of adequate funding, without a definitive business model, without a strategy to maximize the independent utility and value to the state, and without the appropriate management resources, represents an immense financial risk on the part of the state of California," Mr. Kempton wrote.
---