The scold in Mother Nature's cold: It's winter! Wear a coat! (VIDEO)
Temperatures plummeted up and down Eastern US, making it feel, at last, like winter. But this brush with Arctic cold won't last long at all.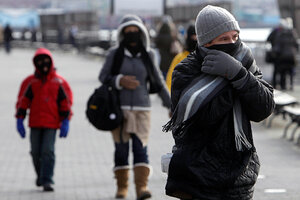 Seth Wenig/AP
Mother Nature poured bitter Arctic temperatures into the eastern third of the nation Wednesday, reminding people from Maine to Florida that they'll need their parkas this winter after all.
According to Accu-Weather.com, temperatures ranged from minus 17 degrees in Saranac Lake, N.Y., to 13 degrees in New York City to 32 degrees in Disneyland. The cold snap stretched as far south as Miami, where residents awoke to 43-degree temperatures.
Aside from lots of people needing to bundle up, though, it appears the East's first brush with ice-box-like temperatures has not caused any major problems.
So far, it appears the fruit and vegetable crops in Florida have come through without any major damage that might cause food prices to soar, as happened following two damaging cold snaps in December of 2010. And, even though many people have had to crank up their thermostats, the heating-oil industry says there does not appear to be any supply-related hiccups.
"The reason this is getting attention is because it's been so mild so far this winter," says Dale Mohler, a meteorologist at Accu-Weather.com in State College, Pa. "If this were a normal winter, you wouldn't be thinking twice about this."
In fact, Mr. Mohler says, there is no need to cancel the trip to Florida because the cold weather is expected to dissipate in the next day or two. By Thursday afternoon, visitors to Disneyland will be walking around in T-shirts, and by Friday it could be back to 80 degrees in Miami.
---