As Obama tweaks policy on illegal immigrants, will Latino voters swoon?
Obama moves to make it easier for some illegal immigrants to obtain legal status, dismantling hurdles set by congressional Republicans. The step is likely to shore up his support among Latino voters, but it could also polarize the country.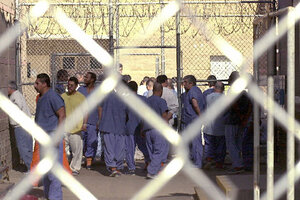 Denis Poroy/AP/File
The Obama White House acted Friday to ease the transition from illegal immigrant to legal US resident, another assertion of executive power that sidesteps Congress and a move that some see as calculated to boost the president's standing among Latinos in an election year.
Beneficiaries of the administration's move are families in which some members are US citizens and some aren't. The aim is to shorten the duration of separation for such families, rather than require the illegal residents to return to their home countries for as many as 10 years before applying for legal US residency, as a 1996 law – approved by a Republican-led Congress – mandates.
The proposed change will undergo a review but doesn't require congressional approval. Under the so-called "hardship waiver," illegal immigrants who are married or otherwise related to US citizens would be able to pick up the waiver before leaving the United States and then be allowed to return almost immediately after picking up visas in their home countries.
Critics decry it as a "backdoor amnesty" that eases the path to citizenship for lawbreakers.
---