Alaska's tale of two cities: one desperate for fuel, another for big shovels
Blitzed by heavy snow and early-season ice in the Bering Strait, two Alaska towns – neither accessible by road – have been cut off from critical supplies, including fuel.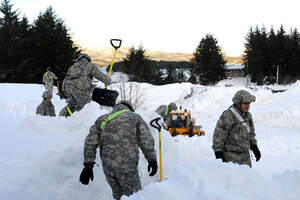 Alaska National Guard/AP
Two human dramas are continuing to unfold in the nation's coldest state.
The tiny town of Cordova (pop. 2,300), nestled in Prince William Sound, races to dig out from "snowpocalypse," its worst snow disaster in living memory, even as new snow falls Tuesday.
A thousand miles to the north, a Russian tanker loaded with critical supplies ekes out a path through treacherous early-season ice toward Nome, bearing the fuel necessary for the tiny hamlet's winter survival.
Neither town is accessible by road.
While the two emergencies are very different in nature – one completely weather-driven, the second a murky mix of weather problems and human error – both can be seen as rich in lessons for a region that anticipates an increase in vessel traffic through the Bering Strait, and continued extreme winters.
"This is the first time we have ever sent an ice-clearing operation through the early ice," says Petty Officer 1st Class David Mosley, a spokesman for the US Coast Guard operating out of Anchorage. The Coast Guard ice-breaking ship is clearing the way for the Russian vessel, averaging speeds of between 5 and 9 miles per hour.
Ice-breaking operations normally handle "old" ice, in the spring and summer, he points out, when the ice formations are more predictable.
In this unprecedented operation, the ship is tackling newly-formed ice that is "extremely dynamic," and therefore more challenging, says Officer Mosley. "Progress under these conditions is very hard.... I'm sure we will be poring over the lessons learned from this operation for a long time."
---