Court dismisses fears of 'creeping Sharia law' that led to Oklahoma ban (+video)
The Tenth Circuit Court of Appeals upheld an injunction against an Oklahoma referendum banning the use of Islamic Sharia law in courts and said there's no evidence of such influence on US courts.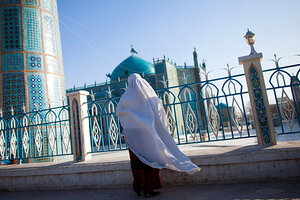 Thomas Peter/Reuters/File
The Tenth Circuit Court of Appeals ruled against a proposed constitutional amendment in Oklahoma that bans the use of the Islamic legal code known as Sharia, calling the popular measure discriminatory and saying there is no evidence that US courts are influenced by those Muslim legal precepts.
The Denver-based court, which is not known for holding progressive views, on Tuesday upheld a lower court injunction against the proposed amendment, which passed in 2010 by 70 percent of Oklahoma voters in a referendum. The court decision, sparked by a lawsuit brought by the Council on American-Islamic Relations, repudiated, in part, the fear of "creeping Sharia law" that has inspired over 20 proposed state laws and has infused some Republican campaign rhetoric.
"Appellants do not identify any actual problem the challenged amendment seeks to solve," the three judge panel wrote. "Indeed, they admitted at the preliminary injunction hearing that they did not know of even a single instance where an Oklahoma court had applied Sharia law or used the legal precepts of other nations or cultures, let alone that such applications or uses had resulted in concrete problems in Oklahoma."
The court concluded that the law also interferes with the Constitution's First Amendment ban on religious discrimination, pointing out that the law focuses on Sharia "while not prohibiting people of other faiths to rely on the legal precepts of their religions."
The ruling does not settle the case, but reaffirms a decision made by an Oklahoma state judge to grant an injunction against the law taking effect.
At the same time, the decision may not lay to rest concerns among many Americans that the US legal system is susceptible to influence by legal ideas embodied in foreign cultures and religions, such as Sharia. Sharia law uses as its foundation the Koran and Mohammed's teachings.
---