Haley Barbour's pardons put Southern redemption on trial
Former Mississippi Gov. Haley Barbour defended his mass pardon of over 200 current and former convicts, quoting the Christian principle of redemption enshrined in Southern law and tradition.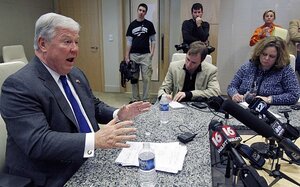 Rogelio V. Solis/AP
Given the disproportionate number of executions in the South, it's safe to argue that the region leads the nation when it comes to tough justice. But as former Mississippi Gov. Haley Barbour showed this week by pardoning over 200 current and former convicts, including 41 convicted of violent crimes like murder and rape, the region also stands out for its Christian trust in the idea of redemption.
The breadth of the pardons, which included a number of notable convicts like Brett Favre's brother, Ernest Favre, and convicted Jackson socialite Karen Irby, shocked and angered many Mississippians, including its chief prosecutor, Attorney General Jim Hood, who believes many of the pardons were unlawful and is seeking to have many of them revoked.
President Bill Clinton, who pardoned 140 people, including the convicted financier Mark Rich, upon leaving the White House in 2001, embodied that principle, gleaned from his days as the governor of Arkansas. Combined with enduring "trusty" systems that allow rehabilitated convicts to work at state governors' mansions, Southern states, perhaps in part because they tend to have larger per capita prison populations than states in other regions, also rely more heavily on executive clemencies and pardons.
---