In South Carolina, Romney, Gingrich brace for Super PAC attacks
The Supreme Court's 2010 Citizens United decision opening up campaign ads to unlimited donations has launched Super Pac attacks against some Republicans in South Carolina.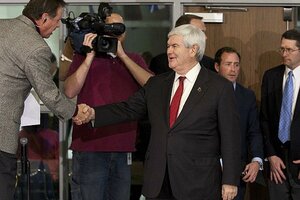 Chris Keane/Reuters
So far, Super PACs – independent campaign groups with unlimited fundraising rights – have proven effective in the Republican presidential primary race, to date mostly helping former Massachusetts Gov. Mitt Romney tar his rivals and cement his lead.
But as the Super PAC blitz gears up with a slew of ads to begin airing in the first Southern primary state of South Carolina, the Republican Party may be experiencing a bit of Super PAC hangover as ads placed by such groups are exposing rifts in the GOP, pointing out candidate weaknesses, and giving a treasure trove of material for President Obama's reelection team to exploit.
Gingrich, for one, was put in a complicated spot on Friday, when he asked a Super PAC vying for his election to withdraw a factually flawed "documentary" ad on Romney, entitled "King of Bain," which is set to air in South Carolina on Sunday.
Since the Supreme Court's 2010 Citizens United decision that paved the way for Super PACs also forbids "coordination" between the PACs and candidates, Gingrich was forced to make the entreaty to the Winning Our Future PAC as a "citizen." (That pretzel-twisting inspired a primer on the process by Comedy Central comedian Stephen Colbert, who handed off his real Super PAC to colleague Jon Stewart on the air last week.)
---