Haley Barbour pardons: Why were the forgiven so disproportionately white?
The fact that white convicts had a far better chance than black ones of getting a gubernatorial pardon from former Mississippi Gov. Haley Barbour may say more about racial misunderstanding than prejudice.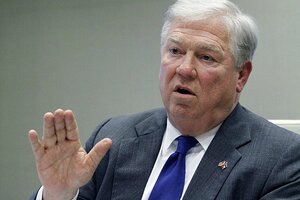 Rogelio V. Solis/AP
The sheer number of pardons handed out by outgoing Mississippi Gov. Haley Barbour – over 200 – left many Mississippians in shock. What may not have been so surprising is that white prisoners were four times more likely than black ones to get the gubernatorial benefit of the doubt.
Out of a total of 222 acts of clemency given by Barbour during his tenure – 156 of which Attorney General Jim Hood has subsequently argued may be constitutionally invalid because of public notice violations – two-thirds benefited white prisoners. Meanwhile, two-thirds of the state's prison population is black.
On its face, the disparities immediately raise questions about whether the Mississippi pardon system is inherently racist. Some critics have called on the US Justice Department to investigate Barbour's pardons on the racial disparities alone, since such broad inequalities could point to a violation of the Constitution's equal protection clause.
RECOMMENDED: Five US states that use the death penalty the most
At the same time, the racial pattern of Barbour's pardons, justice experts say, offers insight into how parole lawyers, governors, even presidents, may view factors like rehabilitation and remorse differently depending on the race of the convict, where opinions may be based more on subtle cultural factors than outright prejudice.
A recent investigation by ProPublica showed that white convicts in the federal justice system were four times more likely to receive a presidential pardon than black convicts – a trend that has continued under President Obama, who is African American.
---