State of the Union: What can Obama do about college tuition?
President Obama hit hard on college tuition costs in his State of the Union speech, calling on Congress to extend the tuition tax credit and to stop student loan interest from doubling in July.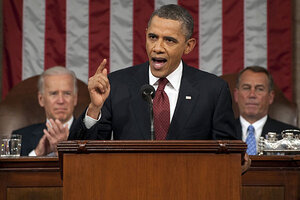 Saul Loeb/AP
President Obama hit hard on issues of college affordability in his State of the Union address Tuesday night, and continued to emphasize the importance of excellent teaching in K-12 education.
He called on states to raise the compulsory age of education to 18; called on Congress to extend the tuition tax credit, to stop the interest on student loans from doubling in July, and to pass the DREAM Act; and issued a threat to higher education institutions who fail to keep costs in check and keep tuition down.
"Let me put colleges and universities on notice: If you can't stop tuition from going up, the funding you get from taxpayers will go down," Obama said. "Higher education can't be a luxury – it is an economic imperative that every family in America should be able to afford."
It was unclear, however, from Obama's speech – and in the blueprint that his administration sent out afterward – exactly how he plans to carry out this threat.
"Unlike K-12 where lots of money pours into programs, there's much less [Federal] money pouring into higher-education programs," says Rita Kirshstein, director of the Delta Project on Postsecondary Education Costs, Productivity, and Accountability. Most of the money that does go to schools is in the form of research funds, she says, along with Pell Grants and subsidized loans for students.
While Ms. Kirshstein says withholding student grant and loan money could be disastrous for some students, she believes withholding research dollars might cause faculty to put pressure on administrators to look hard at their costs. Kirshstein hopes the plan would be placed in a broader context, looking at how much various states have cut back their higher-ed funding, for instance.
---