Pardoned by Haley Barbour, a 'free man' is on the run
Convicted for killing a convenience store clerk in 1994, Joseph Ozment walked out of the Governor's Mansion after being pardoned by Gov. Haley Barbour on Jan. 8 and hasn't been seen since.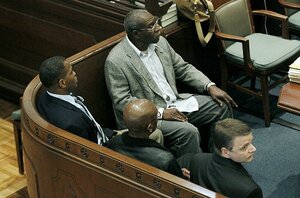 Rogelio V. Solis/AP
Declaring Joseph Ozment "rehabilitated," Gov. Haley Barbour included the convicted killer among more than 200 pardons he issued in his last days as governor of Mississippi.
Mr. Ozment was last seen leaving the Governor's Mansion, where he was a convict "trusty," on Jan. 8 when he got into a car driven by his grandmother.
Ozment, whom Mr. Barbour described Friday as a "free man," is now being sought by Mississippi authorities investigating the constitutionality of Barbour's mass pardons, which shocked many Mississippians, including victims and law enforcement. The list included more than 40 murderers, rapists, and others convicted of violent crimes.
OPINION: Congress must allow ex-prisoners to vote
The unusual manhunt is the latest twist in a peculiar tale of Southern patriarchy and redemption that has dogged Barbour since he left office earlier this month. The governor has defended his actions, saying the state pardon board had already freed most of the people, and that the clemency was mainly designed to give worthy ex-convicts the right to vote and hunt.
But national scrutiny has revealed that those pardoned were both disproportionately white and that many had access to powerful interests in the state. In the aftermath, the state ended its mansion "trusty" program, a judge is deciding the constitutionality of the majority, and the legislature is weighing several bills to curtail the pardon process.
At the same time, the pardons also touched on deeper issues around the nature of redemption and mercy for a country that has one of the highest incarceration rates in the world.
"While his timing and transparency are in question, he has at least reopened a needed national discussion on how justice must be tempered by mercy," wrote the Monitor's editorial board last week.
---