'The Grey': Is film's portrayal of wolves as man-killers too dramatic?
Most North American wolves are exceedingly shy. But given starvation, territorial incursions and habituation with humans, attacks can – and do – happen. Wolf attack scenes in 'The Grey' nevertheless have drawn criticisms from animal rights groups.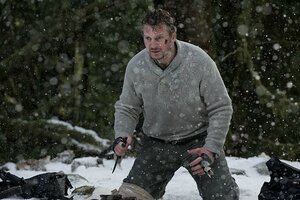 Kimberley French/Open Road Films/AP
Any casual reader of Jack London will get a stab of recognition from the portrayal in the movie "The Grey" of battered survivors defending with flaming torches against snarling, snapping wolves.
After all, the opening stanza of Mr. London's classic "White Fang" details the struggle of two frontiersmen against a hungry pack of wolves, using some of the same savage imagery that confronts "The Grey" star Liam Neeson in the movie, which opens today.
But is it a fair portrayal?
RECOMMENDED: Delisting of wolves raises hackles
To be sure, the perception of wolves as man-killers goes back millennia, representing perhaps humankind's most primal fear: becoming prey.
But animal rights activists, including People for the Ethical Treatment of Animals (PETA), have called for a boycott of the movie, saying the portrayal is misguided and couldn't come at a worst time: when packs of wolves, reintroduced by federal wildlife biologists, are desperately trying to regain footholds across some of America's northern reaches. The movie's premiere comes as a radio-collared wild wolf known as OR-7 has drawn the attention of many fans as wildlife officials track it from Idaho through Oregon and into northern California.
---