Consumer bureau chief Richard Cordray testifies on Hill: Has he charmed the GOP?
Facing a hail of scrutiny from congressional Republicans in both the House and Senate over the last week, new consumer watchdog chief Richard Cordray has remained nonconfrontational.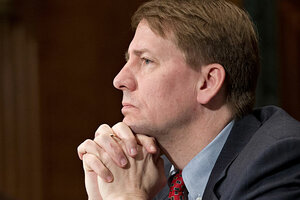 J. Scott Applewhite/AP
If ever there were a man in the hot seat, it would be Richard Cordray, President Obama's recess appointee to head the controversial new Consumer Financial Protection Bureau. But if Mr. Cordray ever felt the need to wipe sweat from his brow during confrontational hearings on Capitol Hill over the last week, he didn't show it.
Rather, Mr. Cordray appeared to disarm some of the CFPB's congressional critics, avoiding confrontation and adopting an easygoing, forthright demeanor that defused some of the expected fireworks.
Still, it's doubtful his nonconfrontational and civil approach will be enough to overcome deep objections from many Republican lawmakers to the scope of the new bureau's powers. Many want to change the structure of the CFPB, from subjecting its budget to the annual appropriations process to implementing a board of directors, arguing that a struggling economy needs a lighter regulatory touch. And some are still steaming over Mr. Obama's end-run around Senate confirmation of Cordray to the post in December.
Cordray's testimony before an oversight subcommittee was "good, it wasn't great," said House Government Oversight Committee Chairman and California Republican Rep. Darrell Issa. "I wish he'd come more prepared with the reality that his tenure might be short because he might not be lawfully appointed."
Even so, Cordray stands in sharp contrast to Elizabeth Warren, who was tapped by President Obama last year to help set up the bureau.
---