Obama opens door to offshore wind power along mid-Atlantic coast
Interior Secretary Ken Salazar announced plans Thursday to open four new wind-leasing regions for wind farms along the mid-Atlantic coast. States look forward to a positive economic impact.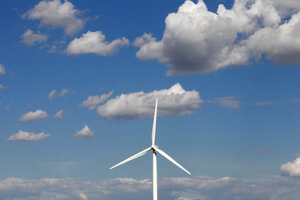 Rick Bowmer/AP
The Obama administration today unveiled plans to boost US offshore wind power by opening up four new wind-leasing regions for wind turbine power generation.
Covering an expanse of nearly 800 square miles, the edges of the four zones would range from seven miles away from New Jersey's shore to 37 miles off the coast of Virginia.
The announcement signaled one big step closer to the reality of wind farms popping up along the eastern seaboard.
An environmental assessment by the Bureau of Ocean Energy Management found "no significant environmental and socioeconomic impacts" would result from issuing wind energy leases in designated Outer Continental Shelf areas, including zones off the coasts of Virginia, Maryland, Delaware, and New Jersey.
"When it comes to powering our nation's homes, businesses and economy, we need to take an all-of-the-above approach to safely and responsibly developing our domestic energy resources," Interior Secretary Ken Salazar said Thursday in front of Baltimore's World Trade Center. "Offshore wind holds incredible potential for our country, and we're moving full-steam ahead to accelerate the siting, leasing, and construction of new projects."
Thursday's announcement was an outgrowth of Secretary Salazar's 2010 launch of the department's "Smart from the Start" wind energy initiative whose goal was to accelerate siting, leasing, and construction of new offshore wind projects.
State officials praised the administration's decision, hailing its expected economic impact.
"To create jobs, a modern economy requires modern investments," said Maryland Governor Martin O'Malley. "Maryland has emerged as one of the leaders in the effort to harness the power of offshore wind."
---