Lance Armstrong rides on as doping allegations fall by wayside
Seven-time Tour de France champion Lance Armstrong has always denied doping allegations. On Friday, US prosecutors said they couldn't make a case stick.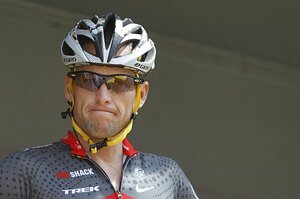 Christophe Ena/AP
The decision by US prosecutors to drop a two-year doping investigation of legendary Tour de France champ Lance Armstrong could mark a stalemate in the debate over how to deal with the use of anabolic steroids in sport.
The use of illegal performance-enhancing drugs by athletes striving to win at all costs has rocked baseball, track and field, and cycling in the last decade. Congress has addressed the issue in recent years and medals and trophies have been returned by athletes like cyclist Floyd Landis and track and field star Marion Jones, even as major US sports leagues have instituted strict anti-doping policies in response to public restiveness about fairness.
But the decision by US Attorney Andre Birotte on Friday to close the Armstrong investigation comes after a number of high-profile prosecutions managed to raise awareness about the seriousness of doping, but failed to produce significant legal victories against the defendants.
The Monitor's Weekly News Quiz for Jan. 27-Feb. 3, 2012
In a 2011 federal trial, retired home run king Barry Bonds escaped serious criminal charges after becoming one of 86 baseball players in the 2007 Mitchell Report linked to doping. Last year, the judge in the Roger Clemens perjury trial quickly declared a mistrial after a prosecutor introduced disallowed evidence to jurors. Clemens is slated for a retrial in April.
In both those cases, the government wasn't trying to prove the sports stars took illegal steroids, but that they lied to investigators – and, in Clemens' case, to Congress – during the investigation.
---