Coaching contrasts of Super Bowl 2012: the 'hoodie' vs. the 'colonel'
No matter the outcome of Sunday's Super Bowl XLVI, it's the contrasting coaching styles of New England Patriots' Bill Belichick and New York Giants' Tom Coughlin that mean more for NFL's future.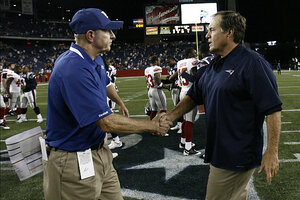 AP Photo/Winslow Townson, File
It's down to two men. In one corner: wild ideas (not always good ones) and a sense of entitlement to victory. In the other: patience and mistake-free management – a man who outlasts his opponents, more than beats them. No, it's not Gingrich and Romney in the GOP primaries. It's Belichick and Coughlin in the Super Bowl.
At first glance, New England Patriots head coach Bill Belichick and New York Giants head coach Tom Coughlin have a lot in common. Both men came up through the National Football League (NFL) ranks as assistants to coaching great Bill Parcells. And like many in the Parcells coaching family tree, both run their programs with obsessive attention to detail and an uncompromising sense of discipline and control.
As coaches, however, the two are different breeds: the conservative Coughlin versus Belichick the gambler. In Super Bowl XLVI, the contrasting styles will be on full display. But beyond the big game, both coaches represent something about how football is evolving, and between the two of them exists an emerging model for the pro football coach of the future.
---