Parental rights vs. child safety: Should boys have been visiting Josh Powell? (+video)
Josh Powell, a 'person of interest' in his wife's disappearance two years ago, died with his two young boys in an apparent murder-suicide. Should he have had visitation rights?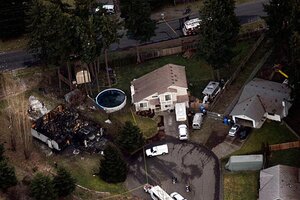 Ted S. Warren/AP
Should Josh Powell have had visitation rights with his two young children – whom he allegedly killed on Sunday in an apparent murder-suicide?
It's easy to second-guess the decisions made in the Powell case, now that the unthinkable has happened.
How could the authorities have given supervised visitation to a parent who was a "person of interest" in his wife's disappearance? Should it have been at his house, as opposed to a neutral spot? Why was no one aware of how troubled Mr. Powell apparently was?
But it's not always clear in such cases what precautions are necessary – and a parent's right to see his or her children is a powerful one in family court.
Joy Silberg, a psychologist who specializes in child protection and abuse cases, says courts often place more value on parental rights than a child's safety – or see them as equal concerns, when in her view, the parental rights should be secondary.
"I have situations where the child has disclosed very clear disclosures about a parent, or terror at being near a parent … and the judge still orders a child to go [to visitation] because the parental right is seen as having so much more power," says Dr. Silberg.
While she doesn't know all the facts of the Powell case, she adds, "it's hard for me to believe that this was completely out of the blue and that no one knew he was this destructive. People usually leave clues."
In fact, Powell was named a "person of interest" by the authorities when his wife, Susan Cox-Powell, disappeared two years ago. But he was never officially charged with any crime, and no details have ever been made public linking him with the case.
---