Could talks over Iran nuclear crisis work? Turkish diplomat offers hints.
Turkey's foreign minister, in the US to discuss Syria and the Iran nuclear program, insists that the time for negotiations with Iran is not passed – and says Iran is willing to talk.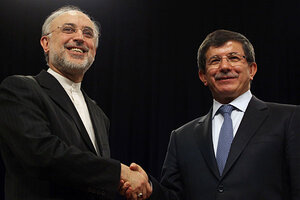 Burhan Ozbilici/AP/File
Turkish Foreign Minister Ahmet Davutoglu, who was recently in Tehran, says Iran is ready to return to negotiations on its nuclear program – but he offers no assurances that Iran is prepared to meet the West's demand that Iran verifiably suspend its uranium enrichment activities to secure a restart of talks.
The top Turkish diplomat says "the mutual lack of trust" between the two sides is the fundamental roadblock holding up the resumption of negotiations. Western powers believe Iran "simply wants to buy time" for its nuclear activities with endless talks, while Iran is convinced the West seeks to deny its right to nuclear development, he says.
Still, he said he is "more optimistic" about talks eventually taking place. "I think this time, Iran has seen that there is a need for negotiation," he said.
Mr. Davutoglu is in Washington to meet with administrative officials and Congressional leaders on two pressing issues – Iran and Syria. Turkey's remarkable rise as a regional leader over the year of the Arab Spring will color discussions as the foreign minister meets Monday with Secretary of State Hillary Rodham Clinton, White House national security adviser Thomas Donilon, and Secretary of Defense Leon Panetta.
---