Westminster dog show 2012: Could a Dalmatian win it all? A Dachshund?
A Dalmatian and a Dachshund are group winners at the Westminster dog show 2012, but they are among dozens of breeds that have never won 'Best in Show.' Why that is.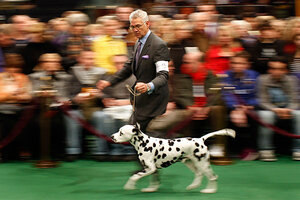 Mike Segar/Reuters
There were 101 of them in the Disney movie, but not one has ever been "Best in Show" at the Westminster Kennel Club in New York.
Maybe this year.
A Dalmatian named Ian trotted to victory in the non-sporting group at this year's Westminster Kennel Club show, making him one of seven finalists for the top prize to be awarded on national TV Tuesday night.
The Dalmatian is just one among dozens of breeds that have never won in 103 years of "Best in Show" titles at the event.
If there's a conspiracy, it's not just against fast runners who sport white coats with dark spots. Other breeds that have never won range from the wildly popular (Golden Retriever) to the exotic (Lhasa Apso). More to come on them later.
The history of the show is that some breeds and groups are highly favored over others, measured by their winning percentages. Terriers may not often be considered tall dogs, but they tower over the competition with some 45 victories over the years.
But this year, the Dalmatian was joined Monday night by another group winner who, if she wins, would also be posting a first for her breed. A Dachshund (wire-haired, in this case) named Cinders won top honors in the hound group.
Do those titles give these two dogs, together, a 2 in 7 likelihood of ending up as "Best in Show"? It's more complicated than that. The show is decided by human judges, not a roll of the dice.
Judging by the show's long history, it looks as if dogs from the non-sporting group (with a 10-win track record) and the hound group (with just 4 wins) have low odds.
But the more recent history is more mixed. In the past 20 years, fully half the shows have been won by breeds notching their first title. At the same time, historic patterns at the group level have largely held sway, with terriers and sporting dogs like the English Setter accounting for 13 titles in the past two decades.
The non-sporting, hound, and working groups have each won just two titles during that period. The toy group has one title during that time, and the herding group zero.
Nothing against the Fox Terrier, but can Border Collies get some respect one of these years?
One mold-breaking moment came in 2008, when the spirited Uno became the first Beagle to win the show. But questions about judging bias, or simply judging imperfection, have persisted.
---