Xi Jinping, future Chinese president, faces test on first White House visit (+video)
Xi Jinping, China's president-in-waiting, will be greeted with friendly words of cooperation in his first White House visit. But the underlying US-China tensions will be hard to hide.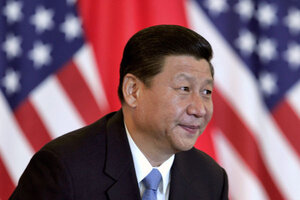 Lintao Zhang/AP/File
For decades, the White House has welcomed soon-to-be Chinese leaders to Washington with happy faces and professions of cooperation. But when Xi Jinping, the man set to become China's president later this year, makes his White House debut Tuesday, President Obama might find it harder to keep underlying economic and political frustrations under wraps than past presidents have, some analysts say.
Key issues in the US-China relationship – trade, currency policy, cybersecurity, and human rights – are sharper than just a few years ago, and an anti-China election-year climate has increased pressure.
Republican candidate Mitt Romney, for instance, insists that if elected president he would use his first day in the Oval Office to declare China a currency manipulator. And the Obama administration itself in January announced a reorientation of US defense priorities toward Asia.
---