Foiled suicide bombing of US Capitol: plot is both familiar and strange
Since 9/11, a series of would-be attackers – many of them 'lone wolves' – have been thwarted by undercover agents posing as collaborators. But an attempted suicide bombing is unusual.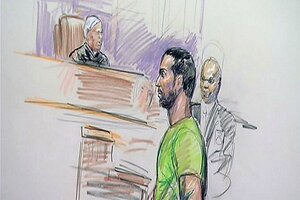 Dana Verkouteren/REUTERS
The man accused of attempting a suicide bombing at the US Capitol building fell into what has become a typical trap set for would-be terrorist attackers in the United States.
Amine El Khalifi, a 29-year-old immigrant from Morocco in the United States illegally, was arrested Friday following an undercover operation in which US agents – acting on Mr. El Khalifi's expressed desire and intent to attack government and civilian targets on behalf of Al Qaeda – posed as collaborators, providing what seemed to be operable firearms and explosives.
It was the latest in a series of similar incidents:
Most recently, Rezwan Ferdaus, a 26-year-old US citizen and a graduate of Northeastern University in Boston, was arrested last September. He is accused of plotting to bomb the Capitol and the Pentagon using remotely-controlled model airplanes.
In a similar case last June, Abu Khalid Abdul-Latif and Walli Mujahidh were arrested when, according to authorities, they arrived at a warehouse to pick up machine guns they intended to use in an alleged terror plot directed at a US military facility near Seattle.
Before that, charges filed against Somalia-born Mohamed Osman Mohamud allege that he was prevented from exploding a bomb at the Pioneer Courthouse Square in Portland, Ore., where thousands of families had gathered for the traditional Christmas tree lighting.
---