As gas prices soar, Californians test life above the $4-a-gallon mark
Gas prices that have already surged beyond $4 a gallon are forcing California consumers and business-owners to cut back and try to make do with less.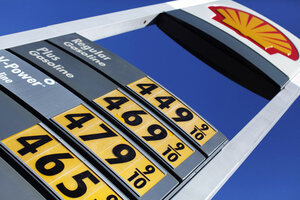 Mike Blake/Reuters
Gas prices are giving handyman Sal Kalil a very tough time.
"I'm putting more money into my truck than into anything else in my life," he says.
His 1995 pickup only gets about 10 miles per gallon, tethering him to work – painting, carpentry, odd jobs – close to his Pasadena home.
"I'm not eating like I usually do and am forgoing all kinds of things because of this," Mr. Kalil says.
His predicament will be common to more and more people nationwide in the next few weeks as gas prices surge toward the $4-per-gallon mark, a psychological threshold at which analysts say consumers begin to dramatically modify their behavior.
For the moment, the average price of self-serve regular in the nation's most populous state is 31 cents per gallon higher ($3.83) than the national average ($3.52), according to the California Energy Commission. But from Feb. 8 to 15, the price Californians paid already topped $4.10.
The result is impacting people and businesses in the Golden State in profound ways.
"We are spending $90,000 a week on gasoline for our fleet," says Keith Lutrel, general manager of Lutrel Trucking Inc., in Bakersfield. He calculates the 60-cent rise per gallon since August has bumped up the cost to keep his fleet of 35 trucks on the road by $15,000 per week.
"It's getting harder and harder to survive with fuel prices like these," says his brother Rick. "Only the really big companies – 200-400 trucks – can survive nowadays," he says. "Will this [firm] last another generation? I doubt it."
---