As gas prices rise, should US oil industry stop exporting?
US gas prices are soaring and domestic demand is falling. The oil industry says it needs to export to stay in business and avoid layoffs. Others claim that keeps supply low and gas prices high.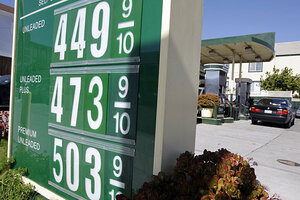 Paul Sakuma/AP
At the same time that the price of gasoline is rising, the US oil industry is increasing its exports of gasoline, diesel, and jet fuel.
Yes, you read that correctly.
Compared to a year ago, exports of gasoline have tripled – at a time when the price of gasoline is 42 cents a gallon more expensive at the pump. On Thursday, for example, the price of crude oil remained elevated at $107 a barrel because of fears over the Iranian nuclear situation, and the price of gasoline rose 3 cents a gallon compared to Wednesday, according to AAA.
The oil industry maintains the exports are necessary because domestic demand is weak. The industry says if refiners could not send American-made gasoline to China, India, Europe, and South America, the refineries would have to close as several have already done on the East Coast. Yet, other energy observers say exporting gasoline at a time of rising prices is sort of like throwing flammable liquid on a fire.
"I think it is simply disingenuous to think exports of gasoline are not a factor in the prices," says Ben Brockwell, director of data marketing and information services at the Oil Price Information Service, which provides petroleum pricing and information to the oil industry.
The issue of US gasoline exports could become controversial if they continue through the summer when average gasoline prices are expected to be even higher than the current price which is $3.61 a gallon according to AAA. By this summer there are some predictions gasoline prices could eclipse the old record of $4.11 a gallon set in July of 2008 and perhaps peak closer to $4.50 a gallon.
---