Warren Buffett ends rocky week by announcing heir apparent
As Warren Buffett's public profile took some rare hits, the 'Oracle of Omaha' moved Saturday to shore up Berkshire Hathaway's future by locating a successor.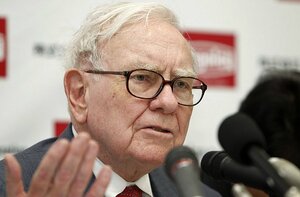 Shuji Kajiyama/AP
In announcing, though not naming, a successor at Berkshire Hathaway, US billionaire Warren Buffett moved Saturday to shore up concerns about the future of his investment firm amid rare criticisms of a man seen by many as a model baron of industry.
Hailed for promoting his Giving Pledge, a promise by the super-rich to donate their wealth to charity after their deaths, and commended more recently by many Democrats for his call for wealthy investors to pay the same tax rate as middle-class Americans, Buffett has become the paragon of a billionaire with a heart.
Buffett's announcement to shareholders on Saturday that he had found a specific successor to run Berkshire Hathaway after his retirement or death came after a fourth quarter that saw Berkshire profits drop by 30 percent, largely because of bets on volatile real estate derivatives.
IN PICTURES: Who are the richest people in the US?
While the firm, which owns over 70 companies – from railroads to chocolate-makers -- and also invests in Wall Street stocks, outpaced the Standard & Poor's average for the 39th year in a row, uncertainty about succession at the company has, according to some experts, plagued its worth.
---