Ohio school shooting: State likely to seek adult trial for teen suspect
Suspect T.J. Lane appeared in juvenile court Tuesday, where the judge ordered him held in custody pending trial for Monday's school shooting in Chardon, Ohio. The state is one that routinely transfers minors to adult court.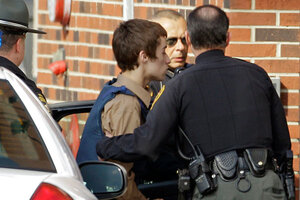 Mark Duncan/AP
T.J. Lane, the teenager held as a suspect in a fatal shooting outside a Cleveland-area high school on Monday, appeared in juvenile court Tuesday, where a judge determined that he will remain in custody pending trial. Whether the 17-year-old will face trial as a juvenile or an adult will be determined next month, but Ohio is a state where minors charged with serious crimes are routinely transferred to adult court.
Authorities say the suspect, whom they have not identified by name because he is a minor, shot five students, killing three, at Chardon High School early Monday morning before fleeing the building on foot. The identity of the suspect, a 17-year-old sophomore, was made public by students who recognized him and by his family, who released a public statement Monday night.
Speaking after the court hearing, county prosecutor David Joyce said T.J. selected his victims at random and has confessed to the shooting. "This is not about bullying," he said, refuting some news reports that the suspect may have been a victim of bullying in the past. "This is about someone who is not well." He said the likely charges will be three counts of aggravated murder, plus others, and that he expected to ask the juvenile court to allow T.J. be tried as an adult. In addition to carrying a .22-caliber pistol, T.J. also carried a knife into the school, the prosecution says.
All matters related to the legal proceedings would change if indeed T.J. Lane is tried as an adult. The most serious is sentencing: Juveniles in Ohio who commit serious crimes might serve sentences as short as five years; if tried as an adult, T.J. would probably face a maximum sentence of life in prison.
"There's a big difference. He will be tried like any other adult defendant and sentenced like any other adult defendant," says Douglas Abrams, a law professor at the University of Missouri School of Law.
---