Tornado's aftermath: Illinois city is stunned … and roused to action
The swath of destruction from the powerful tornado that hit Harrisburg in southern Illinois was quiet Thursday as homeowners looked through debris and mourned. But elsewhere the city buzzed with activity.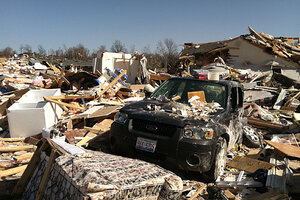 Mark Guarino/The Christian Science Monitor
When Michelle Gunning got a call on her radio before dawn Wednesday that a pregnant woman had been injured by broken glass, she didn't even know it involved a tornado.
Then Ms. Gunning, a paramedic, pulled her emergency vehicle up to the site of what is being described as an unprecedented natural disaster for this small city in southernmost Illinois: an EF-4 tornado, one notch below the strongest, that destroyed as many as 300 homes and 25 businesses, killed six people, and injured and displaced hundreds more.
With electricity down but live power lines underfoot, Gunning used a flashlight to scramble through a neighborhood of wreckage, but could not find the woman. Instead, in one collapsed structure, she discovered others she dragged to safety. One later died.
"Now what do we do? Nothing compares to this," she remembers saying.
The storm savaged communities in four adjacent states, but the death toll was highest in this community of about 9,000, once the heart of the Illinois coal industry and still with many surface and underground mines in operation.
Less than 36 hours after the 200-mile-per-hour winds did their damage, the people here are both stunned and roused to action.
Besides emergency personnel arriving from surrounding counties and states, volunteer efforts are materializing in many shapes and sizes: gangs of teenage boys armed with chainsaws looking to cut trees, a work shift of miners ordered above ground and sent to help out, a local Baptist church transformed into a shelter.
"We're not ones to sit around in southern Illinois. We're taking the initiative to move forward even if our hearts are broken," says Harrisburg Mayor Eric Gregg.
Mobilization is everywhere: Busy street corners feature church groups and others handing out free lunches and water to anyone who honks; toys, beds, diapers, and most everything else people would need – when all they have left in life is the pajamas they wore to bed Wednesday night – is arriving by the truckload to two local church halls.
---