Gas prices force cash-strapped cities to get creative
How do cities stay on budget amid rising gas prices? No idling cop cars, shorter library times, and new garbage routes. But it's a delicate balancing act that could get tougher.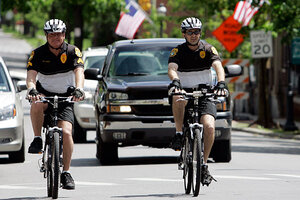 Carolyn Kaster/AP/File
Drivers are not the only ones whose budgets are being squeezed at the pump. Faced with the prospect of $5 gas this summer, cities and towns are also trying to figure out how to stretch budgets by cutting corners, carpooling, or dipping into reserves.
"It's an unexpected additional expense at a time when cities are strapped budget-wise," says Chris Hoene, director of the research center for the National League of Cities. "It's a bit like getting an unexpected snowstorm."
Though cities factor gas-price increases into budgets, officials didn't count on prices going up as much as they have. If this rise continues, they say, they will have to use funds that were intended for other purposes to offset the increase in gas prices.
Panama City, Fla., for one, may be forced to use emergency funds. But those reserves are usually saved for a natural disaster.
"If gas prices go through the roof this summer, and we are hit by a hurricane, that would be our doomsday scenario," says Jeffery Brown, assistant to the city manger.
Already, Panama City has started to implement policies first put in place when gas prices started climbing in 2008. They include not letting cop cars idle and encouraging non-essential vehicles, such as public works and utilities, to plan the day's routes in advance to maximize fuel efficiency.
Many other cities find themselves in the same situation, looking at how to manage municipal fleets of garbage trucks and heating for buildings.
"The stretched budget forces municipalities to reconsider the way that they deliver services," says Mr. Hoene.
---