Daylight saving time: why we 'spring forward' earlier this year
Daylight saving time starts on the second Sunday of March and has since 2007. The goal of moving daylight saving time forward is partly to save energy, but that hasn't happened.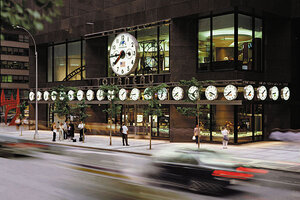 Tourneau/PRNewsFoto
This Sunday people in most states will switch ahead their clocks and lose an hour as daylight saving time begins in the US.
If this season's "spring forward" seems a bit earlier than usual, that's because it is – but only by a few days, at least compared with recent years. (Last year, we switched our clocks ahead on March 13, and in 2010 it was March 14, for instance.) It was in 2007, however, when the beginning of daylight saving time jumped ahead by two full weeks.
That was due to the Energy Policy Act of 2005, which extended the entire period of daylight saving time by four weeks from the second Sunday in March to the first Sunday in November. Before 2007, daylight saving time began at 2 a.m. on the first Sunday in April and ended at 2 a.m. on the last Sunday the following October.
So why did the US government see fit to force us from our beds in ever-greater darkness, well before the first day of spring?
The primary rationale for the legislation, analogous to the chief reason for implementing daylight saving time during World War I, was to promote energy conservation, according to proponents of the bill.
The act was also a bit of an experiment.
One provision in the legislation required the US Department of Energy to study the financial impact of the 2007 daylight saving time extension. The results of the study, released a year later, showed a nationwide electricity savings of 0.03 percent.
Another October 2008 study conducted by the University of California at Santa Barbara found surprisingly little evidence that the adoption of daylight saving time in Indiana actually saved energy. Contrary to the policy's intent, they found electricity consumption actually increased, albeit slightly, during this time period.
---