Gun control: Will campus carry get boost from Virginia Tech ruling?
In a decision that could impact gun control nationwide, a Virginia judge on Wednesday awarded the families of two victims of the Virginia Tech massacre $8 million. Advocates of campus carry say they will use the ruling to press for more gun rights on campuses.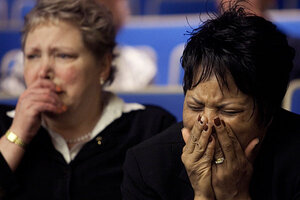 Sam Dean/The Roanoke Times/AP
The finding by a Virginia jury Wednesday that Virginia Tech was negligent in its reaction to a campus gunman who killed 33 people, including himself, in 2007 could play into the politics of a growing movement to allow college students to arm themselves on campus.
The judge in the Virginia case awarded families of two victims $8 million, after the jury found the university waited too long to notify students that a gunman, who turned out to be a student named Seung-Hui Cho, was walking the campus. Two hours after killing two students in what police first thought was a jealousy killing, Mr. Cho killed 30 others in Norris Hall before killing himself in the worst campus massacre in US history.
The negligence finding could be appealed by the school, and there is some question over what the state-funded school will have to pay, given that state law limits damages to $100,000 per victim. Families of the other 30 victims had already accepted an $11 million settlement with the state in 2008.
But the verdict is a point that gun-rights groups say they'll pick up and use to argue for states to allow legal gun carry on college campuses.
"It's hard to tell what implications this ruling will have on colleges in the rest of the nation, but I think it does serve to put them on notice that they are liable for student safety," says David Burnett, spokesman for Students for Concealed Carry, a group founded in the wake of the Virginia Tech shooting. "I think it will make it easier for us to point to these financial penalties and say, 'Virginia Tech may be able to assume those liabilities, but can you as a college afford to spend $100,000 per victim if, heaven forbid, you're the target of the next shooting?' "
---