Steve Martin tweets 10 funniest tweets not tweeted by Steve Martin
Steve Martin has gone social media on us, writing a book about Twitter. There are serious things to say about that ... but also 10 really funny tweets he collected.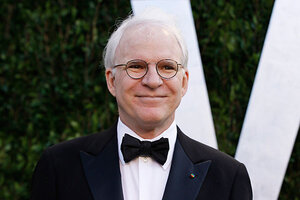 Danny Moloshok/REUTERS/File
Here's a story that purports to be about comedian Steve Martin, but it's really about you and me … and social media.
Steve Martin is a hilarious man. So hilarious, we had to get a Thesaurus to try to sum him up: jocular, rollicking, thigh-slapping, rib tickling, jovial. Maybe you've seen his movies ("The Jerk," "Father of the Bride," "Parenthood," "Pink Panther Strikes Again"). Maybe you've listened to his Grammy-winning comedy albums ("Let's Get Small," "A Wild and Crazy Guy"). Ever on the cutting edge, now Steve Martin's gone out and gotten all social media on us.
(If, like us, you've heard enough about how social media has taken over and changed our lives, skip the next six paragraphs to get to the funny part.)
In his, just-released book, "The Ten, Make That Nine, Habits of Very Organized People. Make That Ten. The Tweets of Steve Martin," Mr. Martin has collected the tweets he started as a promotional tool and then got hooked on for their comedy potential.
"I found the limits exciting, and liked that these thoughts popped up randomly on someone else's device, perhaps catching them at an odd moment," he writes in the book's introduction. "I also liked that these thoughts popped up randomly in me, and kept me on my comedy toes."
He said he started tweeting around Labor Day of 2010, and "didn't really understand the ins and outs of Twitter, and it wasn't until about four months later that I noticed that people were tweeting me back. Then, I started noticing how tuned in and funny the responses were, and then a few months later I started saving the best of them (cut and pasted, by hand, by me) in a file. This was real enjoyment: I would run to my wife quoting someone's latest clever response, laughing hard."
---