Spring equinox heralds start of the season, even if it feels like summer
Spring equinox celebrations around the world were on the early side this year, but summer-like warmth in much of the US makes it seem as if the season is almost over.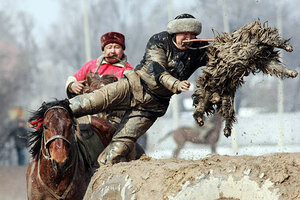 Vladimir Pirogov/Reuters
Spring is here, and even if it may feel to many Americans as if it's almost over, it actually came a bit early.
With much of the United States basking in near-summer-like warmth, spring officially sprang at 1:14 am Eastern Daylight Time on Tuesday.
Partially due to the leap year, it was the earliest vernal equinox in more than a century. The vernal equinox, which signals the beginning of spring in the Northern Hemisphere and the beginning of fall in the Southern Hemisphere, typically falls on March 21. But this year, in the Mountain and Pacific time zones and points west, spring came as early as March 19.
"Vernal equinox occurs when the sun crosses the celestial equator and night and day are equal," says Philip Sadler, a Professor at the Harvard-Smithsonian Center for Astrophysics. "It is really just an instance in time."
"There is no late or early, it is just a matter of the calendar," he says.
This spring has been exceptionally warm, which has followed a mild winter with little snow.
"It has been a remarkable March across the nation, east of the Rockies," says Dave Robinson, the State Climatologist of New Jersey and a professor at Rutgers. "Records have been shattered during day after day of warm air."
Although this warm March has already broken high temperature records, Mr. Robinson cautions that there is still a week left of the month.
---