Wisconsin sonic booms: Is a 1.5-magnitude jiggle the whole story?
The US Geological Survey suggests a small quake under Clintonville, Wis., and associated micro-tremors, could be the source of the mysterious sonic booms. Not everyone buys that.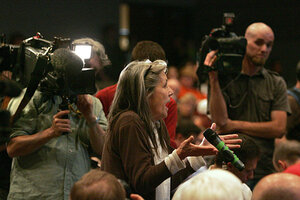 Ron Page/The Post-Crescent/AP
The mystery to what is keeping residents of Clintonville, Wis., awake at night is solved. Sort of.
The US Geological Survey reported Thursday that a 1.5-magnitude earthquake jiggled the area in northeast Wisconsin at 12:15 a.m. Tuesday, which the agency said would be enough to set off the sounds described as underground fireworks or thunder by many of the city's 4,500 residents.
Despite its low magnitude, it is not uncommon that earthquakes of its size are heard in addition to being felt, says USGS Geophysicist John Bellini in Golden, Colo. All earthquakes generate seismic energy that can move through the earth's surface at thousands of miles per hour, creating a loud boom.
Mr. Bellini says the earthquake is responsible for a single boom that lasted one or two seconds, making it likely that the series of booms heard over several days in Clintonville were caused by a series of smaller earthquakes than the one recorded.
"We can assume that there were others that were smaller than this one," he says.
Clintonville received international attention earlier this week when reports broke that many in the town were awoken by loud sonic booms coming from below the surface of the earth.
While the noises have subsided since they were first reported early Monday morning, many have continued each night through Thursday. Dozens of residents have complained that the sounds have triggered cracks in their walls and floors and are responsible for rattling dishes.
---