Detroit nears deal to avert bankruptcy, but is it a state takeover?
Both city and state officials say they are close to an agreement that could force extensive restructuring of city finances, as Detroit faces a $200 million deficit and bankruptcy by May.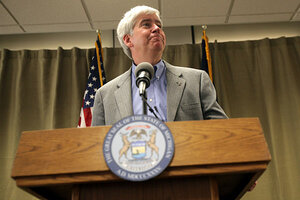 Andre J. Jackson/Detroit Free Press/AP
With Detroit now formally in a state of "severe financial emergency," city and state officials are grappling with the terms of an agreement to resolve the crisis, which both sides say they expect to be signed by week's end.
So far, Michigan state officials are avoiding talk of a takeover – a toxic term in a majority black city whose elected officials are opposing the appointment of an emergency manager. Detroit officials are calling for more financial support from the state.
While Michigan Gov. Rick Snyder (R) says he wants to avoid assigning an emergency manager to control the city's finances, the agreement being worked out between the city council and the state treasurer's office is expected to force the most extensive financial restructuring ever experienced by Detroit, or any other US city its size.
An agreement to solve Detroit's economic crisis is "two or three additional paragraphs" away from being signed this week, he said at a press briefing on Monday.
The prospect of an emergency manager assigned to Detroit has loomed over the city since late December, when the governor appointed a commission to assess the city's financial situation and recommend next steps. On Monday the commission declared Detroit to be in a "severe financial emergency," compounded by reports that the city's budget deficit had reached $200 million and a forecast it will run out of cash by late May. Both factors led Moody's Investors Service to issue two separate downgrades of the city's bond rating last week.
Governor Snyder now has 10 days to deliver a "consent agreement," according to a new law that allows the state to take financial control of any municipality facing bankruptcy. Since the law passed in March 2011, Michigan has placed four cities and two school districts under emergency management.
---