Hutaree militia acquitted of plot to foment revolution
The Hutaree militia wanted to start a war on the US government, federal officials argued. But a judge said the lack of any clear plans shows it was protected speech, not a criminal plot.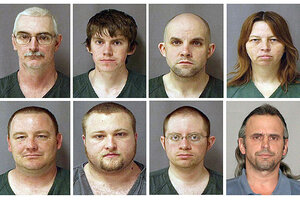 US Marshall/AP/File
Seven members of a Michigan militia were acquitted Tuesday of all major charges – including sedition and conspiring to use a weapon of mass destruction – after a federal judge said the prosecution failed to show the group posed a credible threat to the US government.
"The government's case is built largely of circumstantial evidence. While this evidence could certainly lead a rational factfinder to conclude that 'something fishy' was going on, it does not prove beyond a reasonable doubt … [the militia members] … reached a concrete agreement to forcibly oppose" the government, wrote US District Judge Victoria Roberts.
The acquittal arrives almost two years after nine members of the Hutaree militia were arrested in Michigan, Ohio, and Indiana. FBI intelligence suggested the group was planning to kill a local police officer, then to attack the subsequent funeral procession to spark a wider militia uprising against the government.
In their raids, the agency confiscated machine guns, assault rifles, and explosive devices. An informant recorded David Stone Sr., the group's leader, talking of plans to "go to war" against police officers and their families.
---