'Pink slime': Health crisis or misunderstood meat product?
Pink slime is what critics call 'lean, finely textured beef' – a filler used in ground beef. It's not dangerous, but it's a byproduct that some say should be clearly labeled.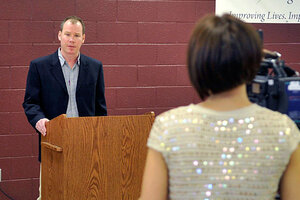 Michael Schumacher/Amarillo Globe-News/AP
The beef industry is fighting back against a public backlash over a ground beef product that critics have termed "pink slime."
Beef Products Inc., the main manufacturer and inventor of the filler, suspended production at three of four plants on Monday. At the same time, they are waging a public-relations campaign to convince consumers that the product is not harmful and is essential to the industry.
Grass-roots pressure on the product formed after reports were featured on various news outlets. Last year, chef Jamie Oliver explored the issue in an episode of his ABC show, "Jaime Oliver's Food Revolution." The opposition intensified when photos of what looked like pink toothpaste spread across social media sites with claims that it was the pink slime; it was not.
An online petition asking the USDA to stop the use of the product in school lunches got more than 250,000 signatures since the beginning of March. In response, the USDA told school districts that they don't have to use the products in their school lunch programs.
This various campaigns have presented a problem for the beef industry.
"We are trying to put out factual information and hopefully educate people," says Jeremy Russell, a spokesman for the National Meat Association. "If our consumers aren't willing to buy it, there is only so much we can do."
What the beef industry calls "lean finely textured beef" (LFTB) and critics call "pink slime" is a filler byproduct that is made by running scraps from meat cuttings through a processor that removes the fat from the trimmings. The beef is usually treated with ammonia to kill bacteria such as E. Coli and salmonella, a process that has been a subject of suspicion and debate despite claims that it is harmless.
According to Marion Nestle, a professor of nutrition and public at New York University, the substance is safe but still raises issues.
---