As Starbucks rolls out plan to sell beer and wine, some buzz is negative
Starbucks is introducing beer and wine to its beverage list in select locations, calling it a response to consumer requests. But many café chain regulars say they fear a change to a bar atmosphere.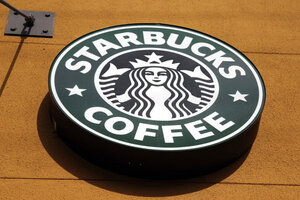 Paul Sakuma/AP/File
Starbucks has been working hard on new beverages to sell, including energy drinks and a line of fresh juices, but the strategy that is generating the most buzz – both good and bad – is the Seattle-based coffee house's move to sell alcohol.
The popular corner café company, ubiquitous across the world, has been cautiously rolling out a plan to sell beer and wine in select locations, beginning with a handful in Seattle. Plans are underway to put the beverages on menus in Los Angeles, Chicago, and Atlanta by the end of 2012.
"We announced this because our customers requested it," says Zack Hutson, a spokesman for Starbucks. He says the company wants to provide a "transition" environment, where customers can "relax and connect" on their way home from work.
"The feedback from our Seattle coffeehouses have been very positive," he adds.
But responses from both advocacy groups as well as customers at non-alcoholic locations in southern California suggest that not everyone approves.
"This is just a way for Starbucks to turn into bar bucks," says Michael Scippa, public affairs director for Alcohol Justice, a northern California non-profit based in San Rafael that seeks to protect communities from "the alcohol industry's harmful practices." He points to what he calls the sobering statistics on alcohol-related damage, including everything from spousal abuse to driving fatalities and incarceration costs for DUI-related crimes. His group conducted a study four years ago that put that figure at some $38 billion annually.
---