Trayvon Martin: With call for sanctions, is Al Sharpton crossing a line?
The Rev. Al Sharpton, the veteran civil rights leader and host of "Politics Daily" on MSNBC, is expected to call for an escalation of protests and economic sanctions until the man who shot teenager Trayvon Martin is arrested.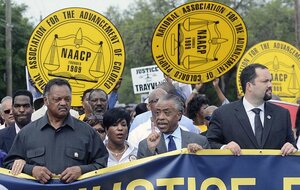 David Manning/Reuters
Already under fire for his dual role as civil rights activist and media personality in publicizing the shooting of unarmed Florida teen Trayvon Martin, the Rev. Al Sharpton is receiving pushback against his call for economic sanctions against Sanford, Fla.
Trayvon was shot and killed by neighborhood watch volunteer George Zimmerman on Feb. 26 after Mr. Zimmerman ignored a 911 dispatcher's suggestion to stay in his car in order to chase down what he had called a suspicious black male. The case has sparked a fiery national debate about racial profiling, allegations of police injustice, and self-defense gun laws.
In driving some of the debate, the contentious Rev. Mr. Sharpton represents a new and controversial direction for news organizations, anchoring an MSNBC show, "Politics Daily," while speaking at protests. Sharpton was scheduled to speak during a rally Saturday in Sanford, Fla., where he is expected to call for sanctions against the city and its police department unless police immediately arrest Zimmerman, who has claimed, so far successfully, that he shot Trayvon in self-defense.
(A special prosecutor in Florida and the FBI are both reviewing the case, and a grand jury is expected to hear evidence on April 10.)
While MSNBC has defended its decision to allow Sharpton to continue his activism as long as he's straightforward about his role, some are concerned that the new phenomenon of personality-driven news activism is inappropriate and could affect innocent bystanders.
---