Obama defends his health-care law. Could this become a campaign theme?
In somewhat less combative terms than he used on Monday, Obama again asserted that his health-care law is constitutional, saying he's not spending too much time 'planning for contingencies.'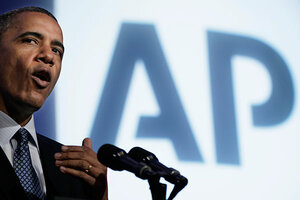 Carolyn Kaster/AP
President Obama, defending his health-care reform law for the second day in a row against the prospect it will be struck down by the Supreme Court, said Tuesday he had "enormous confidence" the law was constitutional.
"We're not spending a whole lot of time planning for contingencies," he told a gathering at the Associated Press Annual Meeting.
Although his tone was less combative than in comments made in the White House Rose Garden on Monday, the president nonetheless told the assembled news executives that it would be an extraordinary exertion of judicial power for the high court to invalidate the measure.
"We have not seen a court overturn a law that was passed by Congress on an economic issue, like health care, that I think most people would clearly consider commerce," Obama said. "A law like that has not been overturned at least since [the pre-New Deal 1930s]," the president said.
On Monday, Obama issued what appeared to be a warning to the high court that if it overturned the Patient Protection and Affordable Care Act it would be engaging in the same kind of judicial activism that is frequently denounced by conservative commentators.
The president's remarks sparked criticism that it is, in fact, the court's job to enforce constitutional boundaries and ensure that the executive, legislative, and judicial branches do not exceed their assigned powers or usurp powers reserved to others.
---