Virginia Beach Navy jet crash: what is known so far
The Navy jet crash in Virginia Beach Friday destroyed or damaged several apartment buildings. The search for survivors continues as officials begin investigating what caused the accident.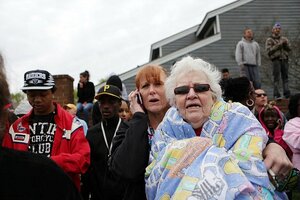 Vicki Cronis-Nohe/Virginian-Pilot/AP
In the first hours after a US Navy jet crashed into an apartment complex in Virginia Beach, Va., Friday, major questions remain about the cause and the eventual cost.
The Navy's initial report says the jet had just taken off from the Oceana Naval Air Station in Virginia Beach before it crashed. Three buildings were destroyed, and two more had significant damage, according to Virginia Beach fire department officials.
Early reports credited the pilot with averting greater destruction and possible loss of life.
"There's nowhere he could have touched down in a safe way," George Pilkington, who lives near the crash site, told CNN. "That it didn't cause more damage to surrounding apartments is definitely a blessing."
Mr. Pilkington said he saw the aircraft flying at an unusually low level, its nose cocked upwards, and spewing fuel. That suggests a mechanical malfunction and the pilot's effort to dump fuel in order to reach the airfield.
"By doing so, he mitigated what could have been an absolute massive, massive fireball and fire," Bruce Nedelka, the Virginia Beach Emergency Medical Services division chief, told the Associated Press. "With all of that jet fuel dumped, it was much less than what it could have been."
Other eye witnesses said they saw parachutes near ejection seats – one person said one of the pilots was still strapped into the seat – indicating that the pilots had bailed out at very low level.
---