George Zimmerman arrest: Proof that the system worked – or failed?
A special prosecutor issued an arrest warrant for George Zimmerman in the Trayvon Martin case. But earlier, local police had refused to do so, raising questions about the legal process.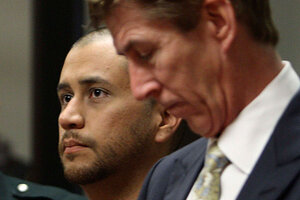 Gary W. Green/REUTERS
Angela Corey, the special prosecutor in the Trayvon Martin shooting, commended the Sanford Police Department for assisting in the investigation that resulted in the arrest Wednesday of George Zimmerman on second-degree murder charges for his role in the death of unarmed teenager Trayvon Martin.
But when she turned to thank local law enforcement officials, only two undersheriffs stood there, neither of them from Sanford. To some observers, including supporters of the Martin family, it was a reminder of how close the Florida justice system came to a very different conclusion in the case.
The night of the shooting, Sanford police released Mr. Zimmerman without charges; department Chief Bill Lee later told the Martin family that no arrest would be forthcoming. After a boisterous and sustained public outcry, Gov. Rick Scott appointed Ms. Corey to look into the case – beginning a process that, with Zimmerman's arrest, came to an opposite conclusion.
In that light, these questions arise: Does the special prosecutor's decision suggest that Sanford police got it wrong? And what if no special prosecutor had been called in?
In the end, did the legal process work or did it fail?
On Thursday, Zimmerman made his first court appearance since being arrested. The judge set a May 29 date for an arraignment at the hearing.
Since the days after Trayvon's death, his family and their supporters have cast Sanford law enforcement's decision not to arrest Zimmerman as a miscarriage of justice. The events of Wednesday night "never should have happened in the first place," said the Rev. Al Sharpton, the veteran civil rights leader and MSNBC host, suggesting that the arrest should have happened long before.
---