Natural gas: Should America export its surplus?
A new liquefied natural gas export terminal in Louisiana just received federal approval. But the demand for more export permits has some industrial consumers worried they'll pay higher prices.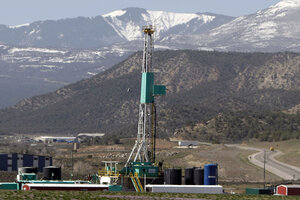 David Zalubowski/AP/File
What should be done with America's natural gas surplus? Use it instead of high-priced gasoline to fuel cars? Export it? Or just sit back and enjoy the lower prices for industrial and private consumers?
The debate is getting renewed urgency with the federal approval on Monday of a big new liquid natural gas (LNG) export terminal in Sabine, La. – and a conga line of 10 other applicants for their own export permits.
Prominent industrial users of natural gas are rushing to oppose any phalanx of new LNG export terminals, because the result would likely be a significant jump in natural gas prices for them – and for residential consumers, several studies show.
"Rapid increases in export levels lead to large initial price increases that would moderate somewhat in a few years," the Energy Information Administration reported in a study on the impact of various LNG export scenarios in January.
In its analysis, the agency concluded that exports of 12 billion cubic feet of gas each day would raise the price paid by the largest industrial customers in 2018 by 36 percent to 54 percent compared with scenarios in which there were no exports.
As a result, natural gas bills paid by residential, commercial, and industrial consumers would increase by up to 9 percent, and electricity prices would bump up by up to 3 percent, compared with no-export scenarios, the EIA found.
"By anyone's measure, these are substantial cost increases," said Paul Cicio, president of the Industrial Energy Consumers of America, in a statement in January after the EIA report was released. Decisions to approve export terminals "must be on an informed basis. Not a rubber stamp approval process," his group said in a statement.
---