Millennial voters: Obama gaining, but Romney has an opening
President Obama has built a 17-point lead among voters ages 18 to 29, but he's struggling among white non-Hispanics. Only 41 percent support the president, according to Harvard's Institute of Politics.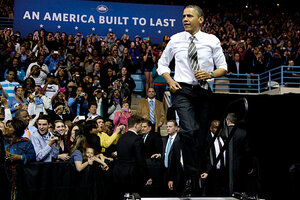 Carolyn Kaster/AP
President Obama now leads Mitt Romney by 17 percentage points – 43 percent to 26 percent – among voters ages 18 to 29, according to a poll released Tuesday by Harvard's Institute of Politics (IOP). That margin represents a 6-point gain from the last survey of so-called Millennial voters by the IOP in November.
The report comes in a week when Mr. Obama and Mr. Romney are courting young voters, with special focus on high student debt and legislation aimed at preventing student loan rates from doubling on July 1.
And while pessimism about America's direction still far outweighs optimism among these voters, 20 percent are now saying the nation is on the right track, up from 12 percent four months ago. Forty-three percent say the nation is heading in the wrong direction, down from 52 percent.
The Harvard survey also found that, by a wide margin, Obama voters are more willing to volunteer than are Romney voters. Seventeen percent of those who said they were voting for Obama said they would be "very likely" to volunteer for his campaign if asked, and 35 percent said they were "somewhat likely." Among Romney voters, only 5 percent are "very likely" to volunteer and only 27 percent are "somewhat likely."
"We're seeing an uptick in support among America's younger voters for the president, for his job performance, and for his electoral chances in November," IOP director Trey Grayson said Tuesday. "However, in potentially good news for Mitt Romney's presidential campaign, the president continues to struggle with key segments of the Millennial demographic – even those which helped power him to victory over Sen. [John] McCain in 2008."
---