Marco Rubio: America must lead world, and Obama doesn't get it
Sen. Marco Rubio of Florida, said to be on Mitt Romney's list of possible running mates, said Wednesday the US must exercise strong leadership, for the world's sake. Overall, his eagerly awaited speech on foreign affairs treaded lightly on Obama's policies.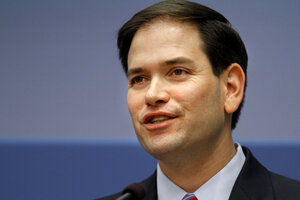 Jacquelyn Martin/AP
Sen. Marco Rubio of Florida, considered a "short-lister" to share the top Republican ticket with MItt Romney, is adamant about this: Only American leadership can deliver the global freedom and prosperity the 21st century promises.
That was the main message Wednesday from the son of refugees from Fidel Castro's Cuba, during a speech billed by some in Washington as the Republicans' opening shot in an election-year battle with President Obama over US foreign policy. Their aim: to paint Mr. Obama as timid in standing up to the world's tyrants and as disregarding the robust American leadership the world needs.
But Senator Rubio did not differ with the Obama administration on much of fundamental importance. He said he would have kept the US at the helm of NATO's Libya operation longer, would do more to challenge Russia as it attempts a world leadership comeback, and would offer a prescription for Syria that sounds much like what the administration is already doing.
---