As LA remembers race riots, Trayvon Martin's name is invoked
Twenty years ago this weekend, South Central Los Angeles erupted after four police officers were acquitted in the beating of Rodney King. On the anniversary of the riots, some are drawing parallels to the Trayvon Martin shooting.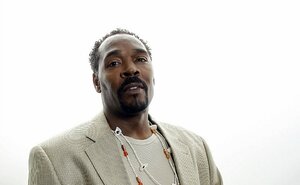 Matt Sayles/AP
On tour promoting his new book, Rodney King, the Los Angeles man whose videotaped beating by Los Angeles police became a flashpoint for the 1992 LA riots, is often asked to put his ordeal into contemporary terms.
On the 20th anniversary of the riots, the name Mr. King often mentions is Trayvon Martin, the 17-year-old Florida boy who was shot and killed on Feb. 26 by a suspicious neighborhood watch volunteer named George Zimmerman.
The police's original decision to not charge Mr. Zimmerman with a crime again raised questions about the treatment of black men by police and the courts, questions that in 1992 exploded into looting, arson, and violence when the four officers charged with the beating were acquitted by a jury. Fifty-five people died.
"It's nothing for them to come along and just shoot you, put a bullet in you because they know that, hey, … he's a black guy," Mr. King told NPR this week." They think about it like it's nothing when a citizen go out there and kill an innocent child, like in this case of Trayvon Martin."
IN PICTURES: The Los Angeles riots, twenty years later
There are of course several differences between the two events.
Mr. King, out of jail on parole, was driving drunk and evading cops before the beating began. Video of the beating was replayed for months. Trayvon, a high school student, was on his way to his father's house in Sanford, Fla., after making a snack run when he was shot by Zimmerman after the two fought. No video exists, only testimony from Zimmerman and several witnesses.
---