Mad cow: Latest episode raises questions about cattle feed
The riskiest parts of rendered cows aren't supposed to be fed back to other cows. But they are fed to chickens, whose waste can be fed back to cattle in what one critic calls 'cow cannibalism.'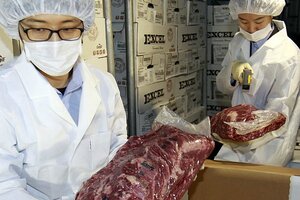 Han Jong-chan/Yonhap/AP
There appears to be no risk to humans from the dairy cow discovered in California this week to have "mad cow" disease. That's according to the US Department of Agriculture and the beef industry.
"It is important to reiterate that this animal was never presented for slaughter for human consumption, did not enter food supply channels, and at no time presented any risk to human health," the USDA said in a statement this week.
But the case involving a 10 year-old Holstein raises questions about how such cattle themselves are fed, which critics say could be part of a dangerous cycle.
RECOMMENDED: Six major food recalls
Mad cow, known scientifically as bovine spongiform encephalopathy (BSE), is believed to be carried by animal feed made from cattle brains or spinal cord. Such feed is now banned in the US and other countries, but cases of BSE have continued to appear around the world.
The World Health Organization has called for the exclusion of the riskiest tissues (eyes and intestines as well as brains and spinal cord) from all animal feed to protect against the spread of mad cow disease.
Stanley Prusiner, who received the 1997 Nobel Prize in Medicine for discovering the protein associated with BSE has said the US should ban poultry waste in cattle feed as well.
---