'Survivalist' murder suspect goes to ground in huge earthen 'bug out' bunker
The survivalist movement is aimed toward apocalypse and social meltdown. But for some, the end game is one of their own making, as seems to be the case with accused murderer Peter Keller, holed up in an earthen fort.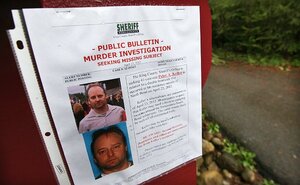 Elaine Thompson/AP
ASSOCIATED PRESS UPDATE: Authorities in Washington state say they've found a body in an elaborate bunker they had surrounded in the Cascade Mountains, and it appears to be that of a man wanted for killing his wife and teenage daughter last weekend. Sheriff's Sgt. Katie Larson says a tactical team used explosives to breach the top of the bunker, and when they looked inside they found a man who appeared to be 41-year-old Peter Keller dead of a self-inflicted gunshot.
Police in North Bend, Wash., say they have laid siege to a huge earthen bunker in the Cascade Mountains where they believe Peter Keller, a self-avowed survivalist, has gone to ground after allegedly murdering his wife and teenage daughter.
The secret mountainside fort, which fits the survialist community's description of a "bug out location," or BOL, is "extensive" and intricate, police say, with multiple entrances and levels. King County, Wash., police believe Mr. Keller, a computer engineer, built it over a span of eight years in a location several hundred yards from the head of the Rattlesnake Ridge Trail, about 30 miles east of Seattle.
Police believe the fort is well stocked with, among other things, high-powered weaponry, food, water, and gas masks. Police managed to fire one tear gas volley through one of its entrances in order to smoke Mr. Keller out, but it didn't work. Police say the gas may not have penetrated through the whole complex.
"This isn't a hole in the ground. This is a large built-up structure," Sheriff Steven Strachan told reporters. "But hidden. It took some time to find it."
Since 9/11 and the real estate recession, according to some observers of the movement, growing numbers of Americans are preparing for a major disaster or global financial meltdown.
---