May Day: Occupy movement returns, but can it win converts?
On May Day, Occupy protesters sought to signal that last year was the beginning – not the ending – of their movement. But this year, they have to be more than lobbyists, experts say.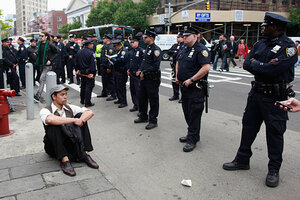 Andrew Kelly/REUTERS
The Occupy movement kicked off its "spring awakening" in New York's Bryant Park with a mini-replica of Occupy Wall Street efforts from last fall – free food, a skills exchange, and plenty of noise and soap-box style rhetoric.
But the movement, which was displaced from its Wall Street area encampment by the New York Police Department last November, mainly used the midtown park as a staging area with groups of 40 to 50 mostly youthful protesters at a time marching to nearby corporate headquarters.
"Pay your taxes!" chanted one group outside of News Corporation, which owns Fox News and The Wall Street Journal. "No New York City taxes!" they yelled outside the building housing the hedge fund Paulson & Co. The NYPD monitored the protests and made some isolated arrests of about seven people through midafternoon, according to the National Lawyers Guild, which was monitoring the events.
---