Iconic 'The Scream' to be sold at auction. How Munch will it fetch?
A Norwegian businessman, whose father knew Edvard Munch, is selling the last privately held version of 'The Scream.' Some speculate the much-reproduced work could bring $80 million.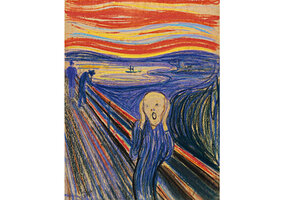 Sotheby's/AP/File
News that Norwegian painter Edvard Munch's most famous work, "The Scream," goes on sale Wednesday night has sent a ripple through both the art world and popular culture.
That's because while few have ever actually seen an original (Munch created four versions), the image of a pale face gripped by both hands, emitting a soundless howl, may just possibly be one of the most well-known "high art" icons of the past century.
Reproduced everywhere from dorm posters to key fobs and tee-shirts, and referenced in films such as "Scream " and "Home Alone," it has come to symbolize wordless horror, personal anxiety, and existential pain.
The version on sale is the only one remaining in private hands and observers of the Sotheby's auction have speculated it could go for as much as $80 million.
For the uninitiated – and there may still be some who have never seen even a picture of the original – this auction and the publicity surrounding the sale may introduce them to what Los Angeles art critic Edward Goldman calls one of the masterpieces of modern painting.
"That astonishing price tag will get people's attention," he says, adding, "this is not a bad thing. After that they may Google him. They may learn more about Munch and who knows, maybe move on to other painters.
"It doesn't matter which door they take to enter the temple of good art," he adds with a laugh, "as long as they come in."
The rarefied world of collectors who can afford that sort of price tag, however, does distress him. "I am very saddened by the prospect that this work will simply surface briefly, then disappear into the private collection of some wealthy art collector, never to be seen again," says Mr. Goldman.
A private sale would have little, if any, effect on the enduring power of the imagery, however, points out Robert Thompson, the Syracuse University popular culture expert, a reality that Munch himself might applaud, he adds.
---