Clamoring for the future, Savannah has to first deal with the wreck of the CSS Georgia
A scuttled Civil War battleship at the bottom of the Savannah River is just one of many complicating factors in Savannah's bid to become a port able to handle 1,200-foot mega tankers expected to start moving through the Panama Canal in 2014.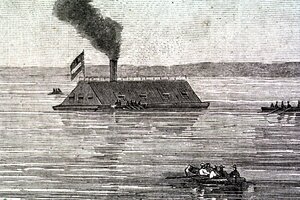 U.S. Army Corps of Engineers/AP
Before Savannah, Ga., realizes its dream of becoming a world-renowned tanker port, it's having to deal with tough reminder of its past, in the form of a scuttled Civil War battleship rotting in the Savannah River.
The dredging of the Savannah River has become one of the biggest economic and political footballs in the South, pitting Georgia and South Carolina interests against each other over how to deepen the river that splits the two states where the lowcountry meets the Atlantic's tidal estuaries.
At stake are not just bragging rights, but millions of dollars in trade that could raise the profile of the languid, Spanish-moss laden city that inspired the 1990s bestseller, "Midnight in the Garden of Good and Evil."
---